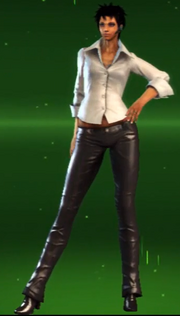 Amala
is long-time ally of Jack's and an information specialist second to none. Making frequent use of her data mining skills, she supplies Jack with essential intel during his missions. Although at ease with the latest tech, Amala is also an ingenious retro hacker, capable of breaking the encryption of long-forgotten military satellites and putting them to surveillance use.
Role in the Story
Edit
Throughout the story (Black Side) she assists Jack while he tracks down Maximilion Caxton, later she persuades The Baron into helping take down Max by question his manhood.
Amala was voiced by Masasa Moyo in the English version and Kikuko Inoue in the Japanese version. also shares her voice with Tangram from Cyber Troopers Virtual-On Oratorio Tangram and Cyber Troopers Virtual-On MARZ.
Ad blocker interference detected!
Wikia is a free-to-use site that makes money from advertising. We have a modified experience for viewers using ad blockers

Wikia is not accessible if you've made further modifications. Remove the custom ad blocker rule(s) and the page will load as expected.